Russell Fish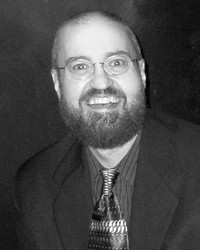 Russell first caught the acting bug while delivering singin telegrams around Greater Hartford before finding his home at the Cabaret. He has appeared in over 20 productions since his 1999 debut as Melvin P. Thorpe in THE BEST LITTLE QWHOREHOUSE IN TEXAS. Favorite shows include RUMORS, THE UNDERPANTS, CHAPTER TWO and NUNSENSE-AMEN, due primarily to the fabulous casts on and off the stage.
He has worked professionally at Hartford Stage and as movie extra, on television appearing on MTV, The Late Show with David Letterman and with his wife Cutie on The Maury Show.
Both Russell and his wife are extremely proud of their beautiful daughters Shantoy and Shannon, who have grown up on the Cabaret stage playing a 6 year old Balloon girl in GYPSY to potential brides in CINDERELLA.