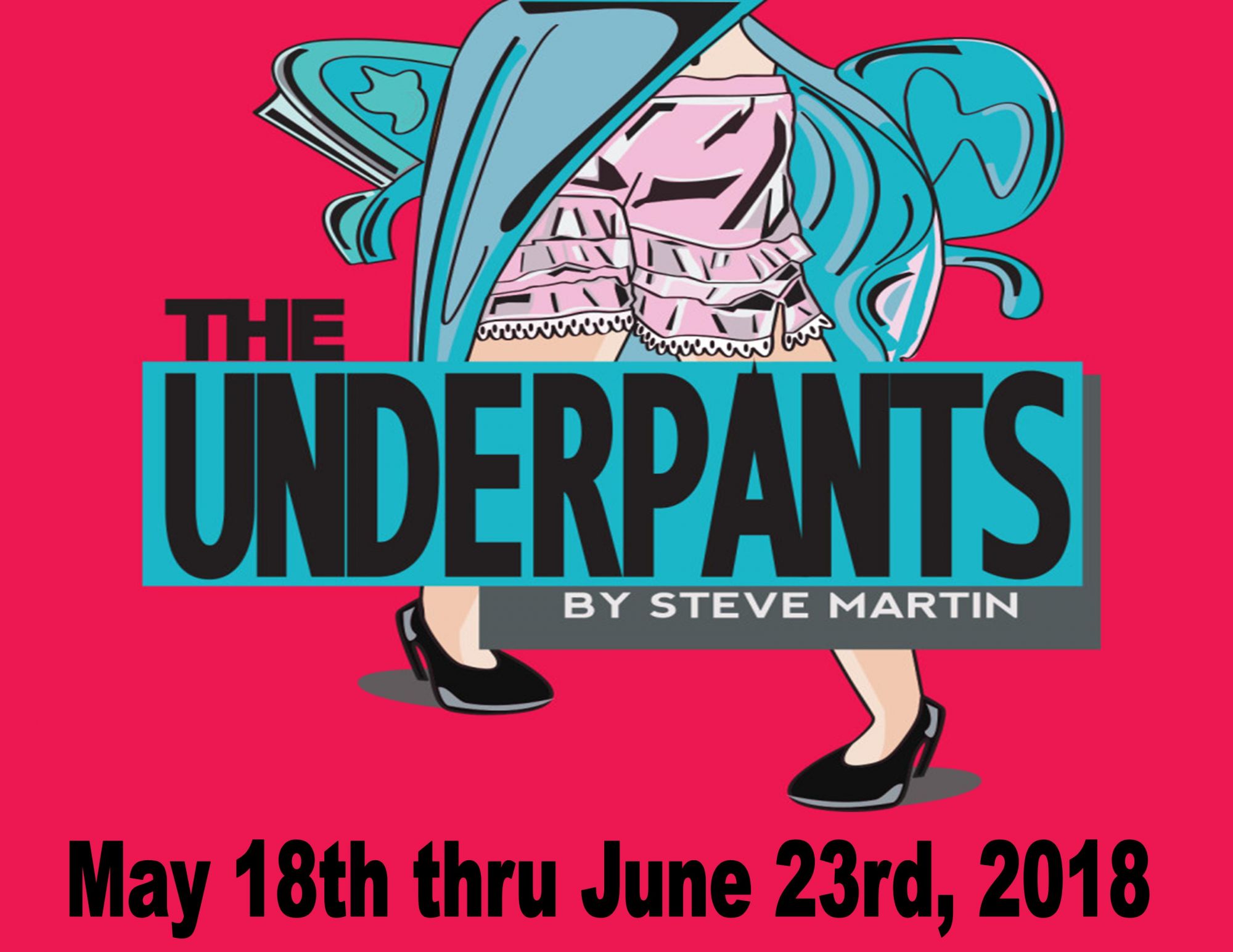 Theo Maske has an unusual problem, his wife's underpants won't stay on. One Sunday morning they fall to her ankles right in the middle of town--a public scandal! Mortified, Theo swears to keep her at home until she can find some less unruly undies. Amid this chaos, two infatuated men, a dapper poet and a whiny hypochondriac want to rent the spare room in the Markes' home. Oblivious of their amorous objectives, Theo splits the room between them. In which the prospective lodgers now have some underlying surprises of their own.
Don't get caught with your pants down. Especially not your underpants. The Connecticut Cabaret Theatre kicks off its 21 year anniversary season with a rollicking farce, The Underpants, by Carl Sternheim, adapted by legendary comedian Steve Martin. With a dynamic cast led by director Kris McMurray.
The cast features the incredible talents of:
Ashley Ayala as Louise Maske
Rick Bennett as Theobald Maske
Barbara Horan as Gertrude Deuter
Russell Fish as Frank Versati
James J Moran as Benjamin Cohen
Dave Wall as Klinglehoff
Click here to read what critics are saying about Connecticut Cabaret Theatre's production of The Underpants

As an actor, comedian, author, playwright, screenwriter, producer and musician—Steve Martin is one of the most diversified performers and acclaimed artists of his generation. Martin has been successful as a writer of and performer in some of the most popular movies of recent film history—appearing in more than 50 films over the course of his career. With titles such as Trains and Automobiles, Parenthood, Father of the Bride and Cheaper by the Dozen franchises, Baby Mama and It's Complicated. Martin wrote the screenplays for some of his most celebrated films including The Jerk, Roxanne, Bowfinger, L.A. Story and Shopgirl.. Martin's work has earned him an Academy Award®, five Grammy® awards, an Emmy®, the Mark Twain Award, an AFI Lifetime Achievement Award and the Kennedy Center Honors. He has also hosted the Academy Awards® three times. Martin shone as a stand-up on The Tonight Show Starring Johnny Carson, made appearances on HBO's On Location and NBC's Saturday Night Live, and became the first comedian to sell out an arena performance As an author, Martin's work includes the novel An Object of Beauty, the play Picasso at the Lapin Agile, a collection of comic pieces, Pure Drivel, a bestselling novella, Shopgirl, and his memoir Born Standing Up.
The Underpants runs every Friday and Saturday at 8:00pm from May 18th thru June 23rd, 2018. There are no performances May 25 and 26 due to the Memorial Day Weekend. Doors open at 7:15pm. Tickets are now on sale. ALL MAJOR CREDIT CARDS are accepted. To purchase tickets, please call the box office at 860-829-1248. Reservations are recommended. Ticket price $34.00. The Connecticut Cabaret Theatre is located at 31 Webster Square Road,Visit the website for detailed directions. The Connecticut Cabaret Theatre is Central Connecticut premiere cabaret-style theatre, patrons are welcome to bring whatever they like to eat or drink with them.